About Us
The Team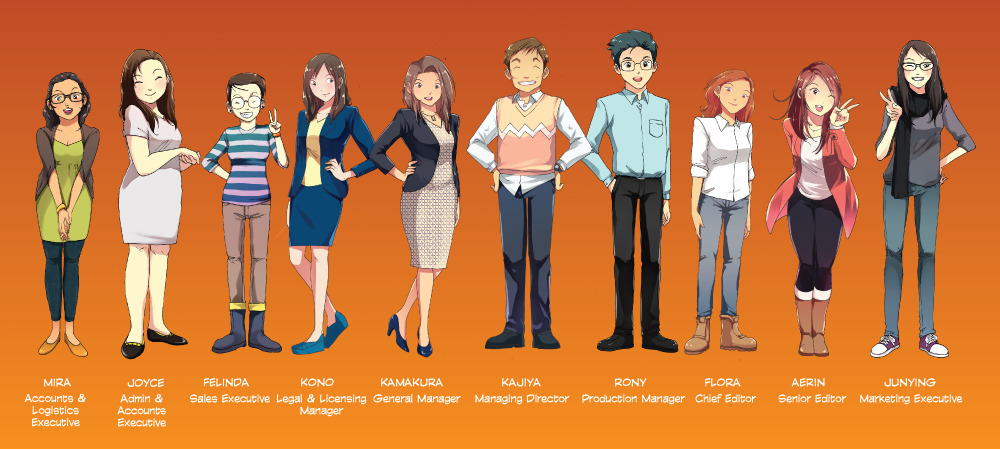 The Group
Our parent company, Shogakukan Inc. (http://www.shogakukan.co.jp/) was first established on 8 August 1922, as a publishing house that specialised in educational magazines for elementary school children and teachers in Japan. Over the years, Shogakukan gradually expanded both its scale and its range of publications in order to cater to the various needs of its readers from different age-groups and demographics.
Today, Shogakukan is one of the leading publishers of manga and other publications in Japan, publishing more than 60 magazines, 8,000 books, 13,000 manga books, 800 magazine-books, and 4,000 DVDs each year (as of 2013).
With a strong foothold in the Japanese market, Shogakukan has been vigorously trying to expand its overseas businesses by establishing business bases in San Francisco, Paris, Shanghai, and Taiwan. With the significant growth and development of Asian countries in recent years, Shogakukan sees a huge potential in the Asian market and the need for a more aggressive Asian strategy.
The Company
On 18 September 2013, Shogakukan Asia Pte Ltd was established in Singapore to lead the expansion of its businesses in Southeast Asia. Shogakukan Asia adopts the direct publishing model, leveraging on the rich experience and know-how in overseas licensing and publication of educational materials.
At Shogakukan Asia, we believe that our works (publications and edutainment) allow young readers to explore the joy of learning and reading, by providing fun but informative edutainment that is wholesome and intriguing to young minds. We also hope to promote growing interests and knowledge in arts and culture through our manga and other publications starting from existing Japanese publications.
Our Mission
To plant the seeds of knowledge and dreams through our publications and edutainment for the flowering of arts and culture.
Our Philosophy
Business with honesty and genuine heart
Bring out smiles in children and people of all ages
Be a game changer with creativity, imagination and innovation
Our Values
Creativity beyond generations
Inspire our future
Adding Value to one's life